2018 Outing Schedule and Results
January 6, 2018 - Nielsen's Channels
This outing was canceled due to extreme cold weather.
January 20, 2018 - Eagle Lake
Seven members and 1 guest ice fished at Eagle Lake on January 20. The conditions were ideal - 40 degree temps and 15 inches of ice. But, the fishing was very slow. Jeff Haug caught the winning fish, a 27" northern, by 7:30 AM. After that, the fishing went dead. While several flags went off, the only other fish caught that counted for points were a pair of 10.5" perch that Gregg Stockey got on golden roaches and tip ups. The consensus was that other perch were big enough to trip the flags, but not big enough to completely eat the roaches. At 12:05, as we were packing up, Al Silcroft landed at 24.5 inch northern, but it was too late to count. We grilled brats on the ice and had a great time on a beautiful winter day.
February 17, 2018 - Lake Elizabeth
Ten members ice fished Lake Elizabeth on Saturday, 2/17. We caught 1 northern pike, 1 largemouth bass, and 6 bluegills for a total of 16 points. It was a beautiful day and we had fairly steady action with a lot of missed strikes on flags and a number of undersized fish caught.
We had wine and cheese hors d'oeuvres on the ice and a lot of laughs. Lunch was at KC's Cabin and a great time was had by all.
March 24-25, 2018 - Fox River, DePere, WI
The Libertyville Fishing Club held its 4th of 18 outings for 2018 at the Fox River walleye run in De Pere, Wisconsin on March 24th and 25th. Eleven members and one guest fished in windy, cold conditions, but at least we didn't get rained on like last year. We scored 49 walleyes and 4 whitefish during the outing hours, which was much better than last year when we boated 23 walleyes and 2 whitefish. However, the bite was tough. Jigs and minnows were the most effective, with most fish hitting very lightly. Average size was around 17-20 inches. Brian got a 25 1/2 incher while prefishing Friday. Jeff Sannes and guest Ryan Nowakowski caught twin 21-1/2 inchers during the outing hours to split the big fish pot.
April 21-22, 2018 - Clinton Lake
The Libertyville Fishing Club held its 5th of 18 outings for 2018 at Clinton Lake April 21-22. Twelve members and four guests fished in windy conditions. Clinton is a new lake for us and it is big water, so we had a lot to learn. Fishing was very slow for everyone, even the locals, who told us the fish just weren't aggressive this weekend. However, the fish we caught were very large. We learned that trolling would be a good option for hybrid stripers. The largemouth were very tight to the downed wood. Dragging a dead stick with live bait is also a good choice. Boat control was tough in the wind, and the kayakers definitely had an advantage getting in close to the cover.
We scored 7 largemouth bass during the outing hours, (topped by Ken Haney's 19.5", 4.5 pounder), 2 catfish (topped by Art Krohnert's 48 lb, 44" flathead that hit a nightcrawler rig), 6 hybrids (topped by Al Silcroft's 20.5-incher caught trolling a flicker shad), and 16 crappie. Jeff Haug got a beautiful 21", 5 lb 12 oz largemouth on a wacky worm prefishing Friday.
Art's fish story is one for the books. Fishing in a kayak, the monster cat gave him an hour long fight on a medium-light action "raffle prize" rod and reel he won at one of our club functions. The rig held together because he was using 12 lb braided line. He surfaced the cat about 6 times and knew he would never be able to net it. When the fish finally got tired of towing him around Art managed to stick his fist into its mouth to grab a gill plate, turning the kayak on its side and nearly capsizing to wrestle it in onto his lap. With the fish's head at his crotch (lucky it wasn't a shark!) and the tail reaching all the way down to the pedals, Art had a very hard time just controlling the kayak in the wind and waves. It took an hour to get back to the launch. Great job Art! We'll have a tough time beating your catch for fish of the year, but we have musky and sturgeon trips coming up.
May 5, 2018 - Lake Michigan
Nine members in three boats fished this outing. Fifteen salmon were caught for a total of 90 points. Eleven of those were coho, with the biggest being 27". The other four were king salmon, including a 32-incher caught by John Medved, a 36-incher caught by Jeff Sannes, and a big-fish-winning 37-incher caught by Ken Haney (pictured below).
May 19, 2018 - Fox Chain
Twelve members fished this outing in excellent weather conditions. Jig and crawler or jig and minnow were both effective, as well as trolling. The walleye were active and congregated if you found them.
We scored 3 largemouth bass, 21 walleyes, 4 catfish, and 1 crappie for a total of 146 points. Jeff Sannes took the big fish prize with a 20.5-incher which beat out several others in the 18-20 inch class. Jason Cashmore caught a big catfish that gave him a 15 minute tug-o-war on an ultralight setup.
There was a 68 boat walleye tournament in progress and those guys were trolling around us and netting fish often, so the fish were on the feed. It was a fun outing followed by a delicious lunch at Anastasia's in Antioch, and a good time was had by all.
June 2-3, 2018 - Green Lake - Jay Hall Memorial Outing
Seventeen members and four guests fished Green Lake for the club's 8th outing of 2018. The weather was decent—it was overcast all weekend and windy Sunday, but no rain to speak of.
The fish were very active. The smallmouth bass were on their beds, the big white bass kept showing up, and panfish were everywhere. The members scored as follows on gamefish: 23 largemouth bass, including 3 over 18", 50 smallmouth bass, including 9 over 17", 12 walleye, including 3 over 22", 8 northern pike, and 6 catfish. On panfish the members scored 1 bluegill, 60 rock bass, and 31 white bass, including 29 over 14". Total points for the outing were 782, which is a new record for the club. Dave Busscher took the big fish prize with a 19 inch smallmouth bass. The guests caught a mess of fish as well, which are not counted in these totals, and pre-fishing on Friday yielded many more scoreable fish which are not counted in these totals.
Mike Hall and Mike Stanek grilled burgers and brats for lunch Saturday, preceded by Lou DiNicola's venison teriyaki appetizers. We want to thank Stacy at Greenway Log Cottages for her great hospitality.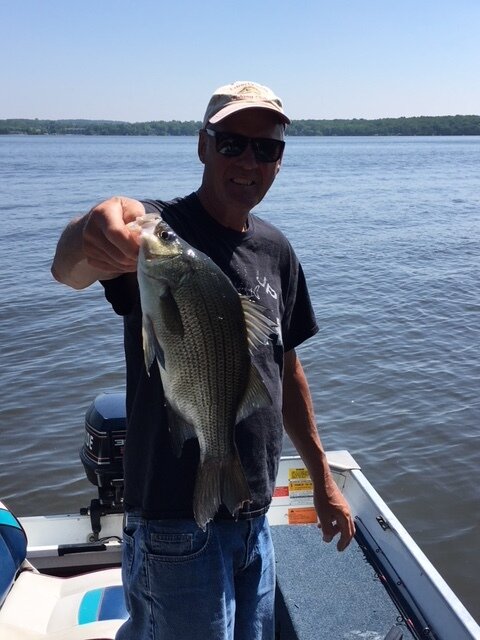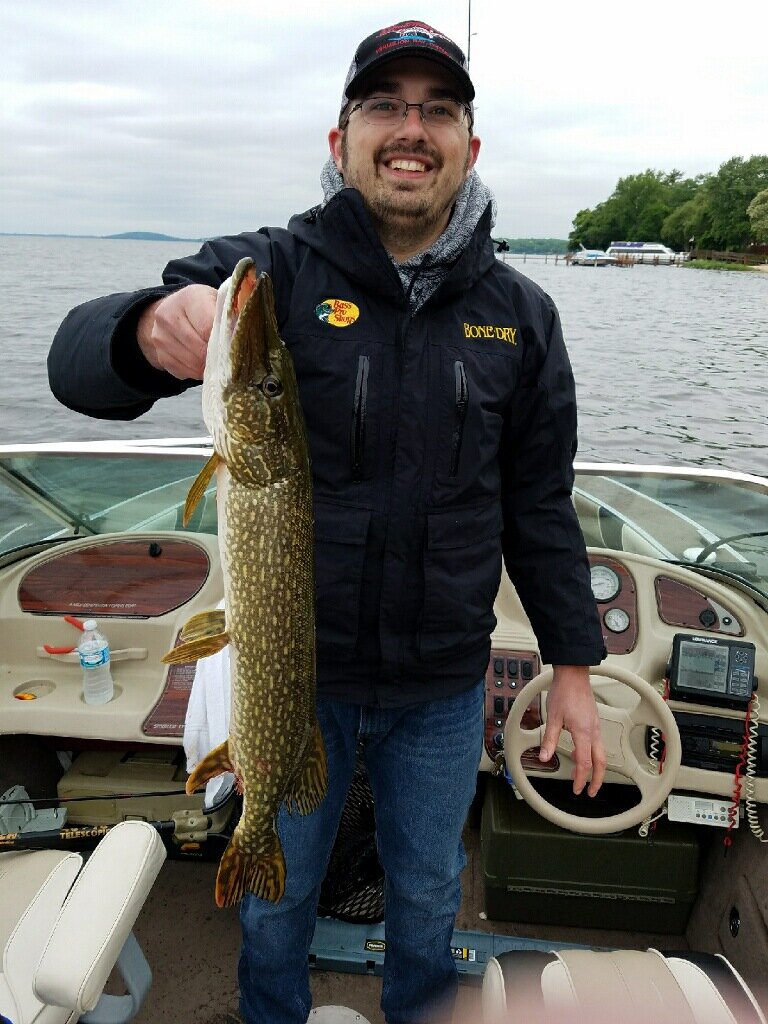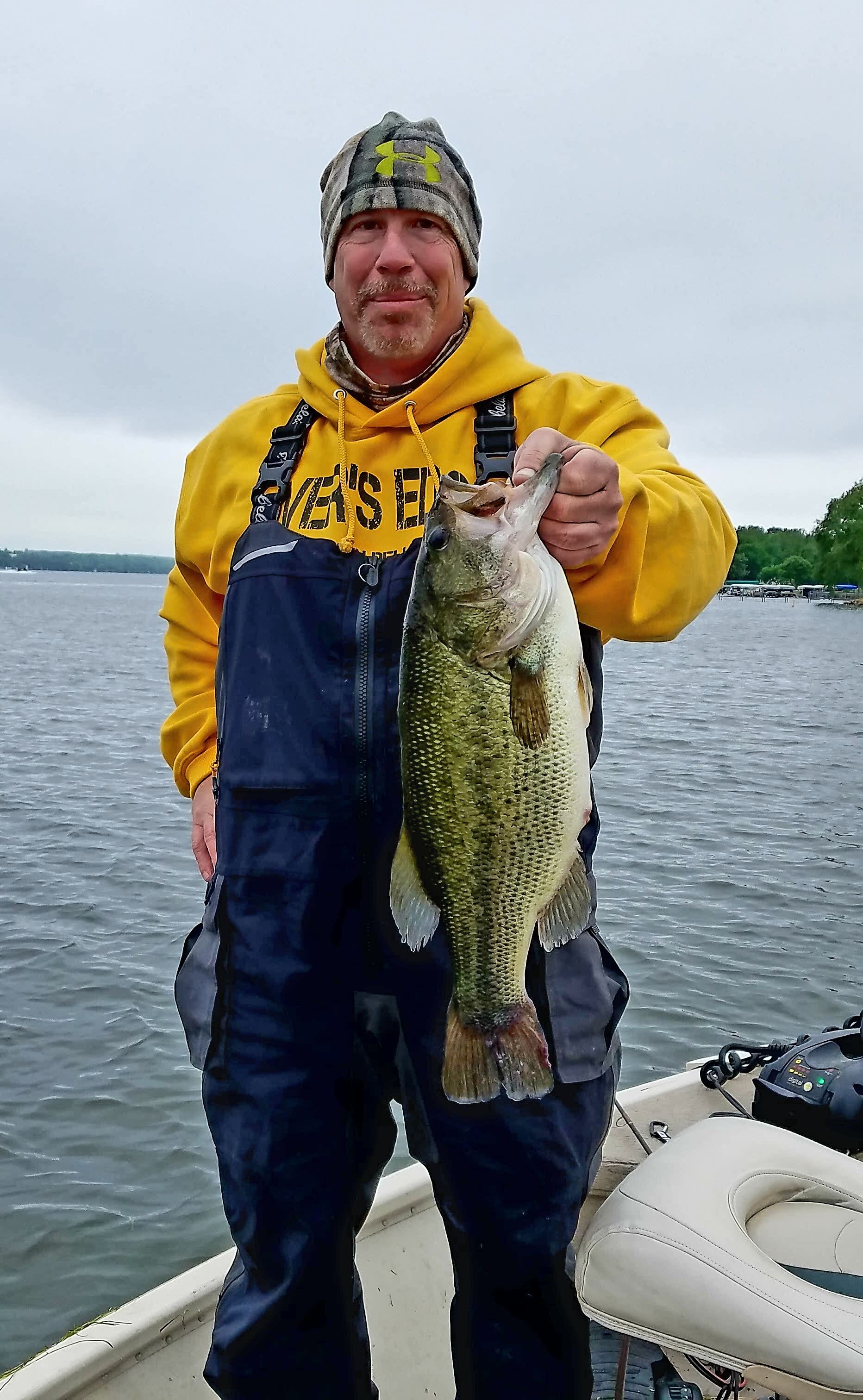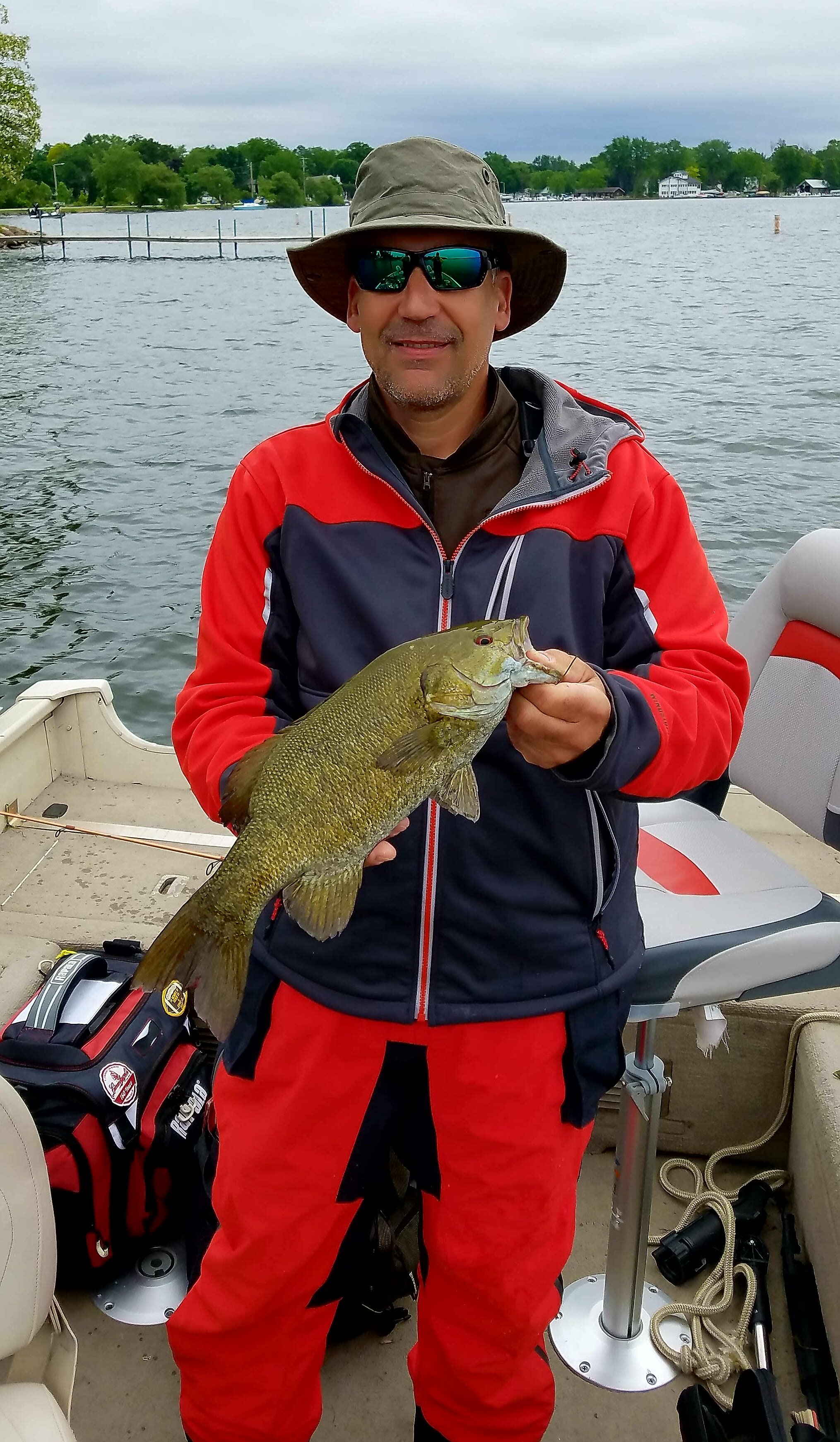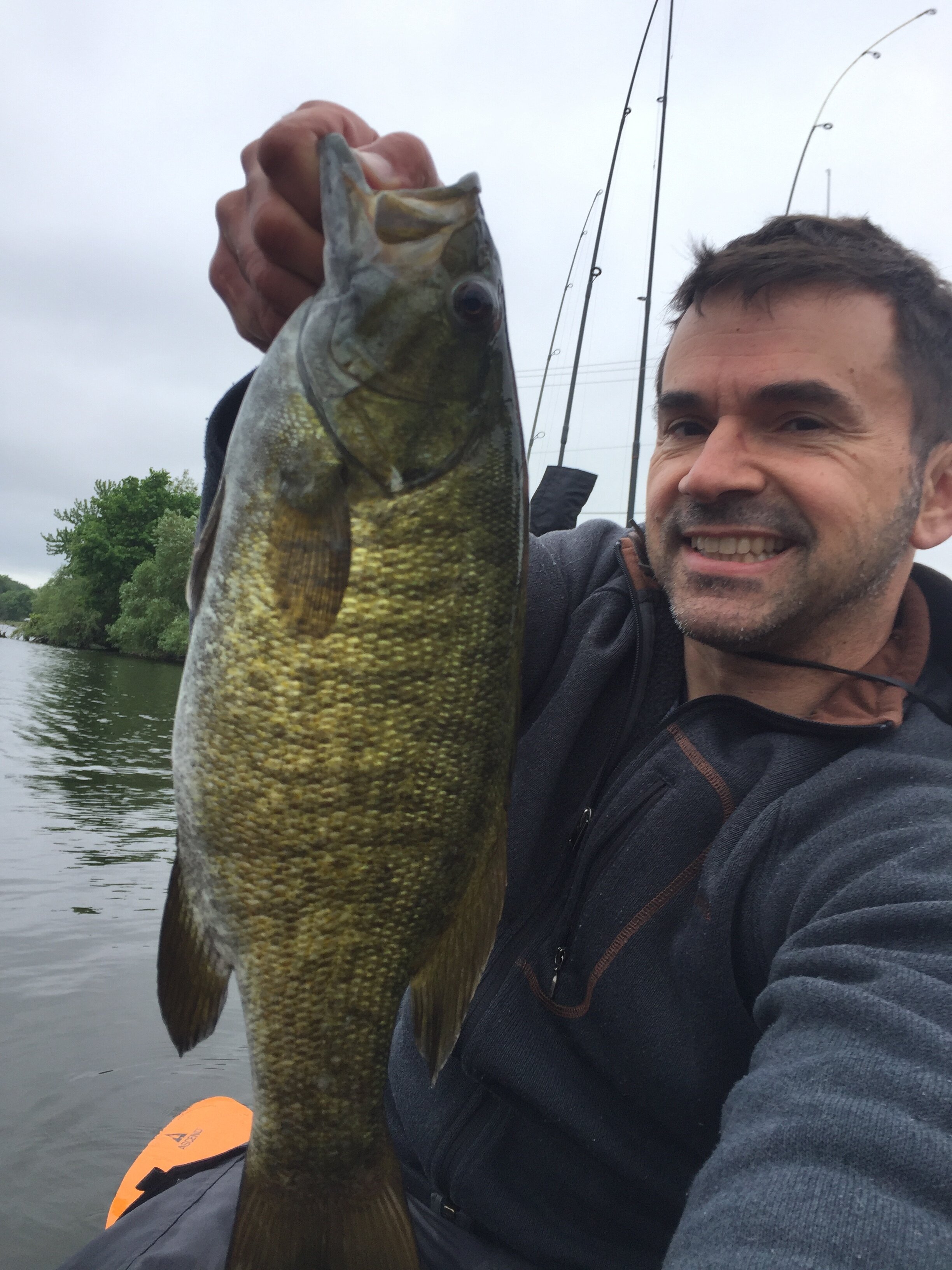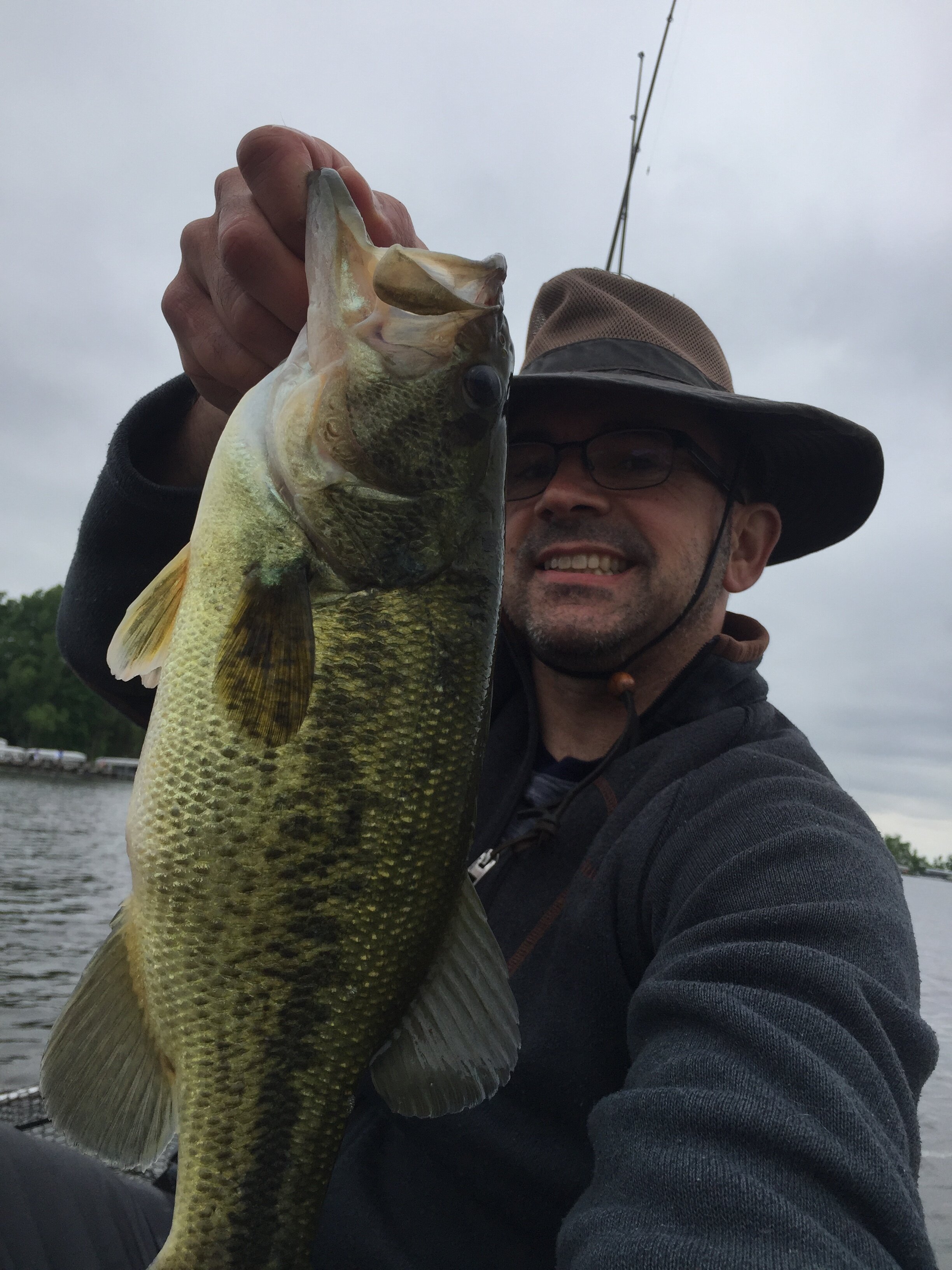 June 16, 2018 - Private Bass Lake
Twelve members fished the outing in excellent weather. The bass were very active on various lures, but plastics worked best. Forty-seven largemouth bass and 2 bluegills were caught to score a total of 237 points. Ken Haney and Frank Hein shared the big fish honors with 16.5" largemouth. The big bass that we know are in this lake were not active for some reason, but we had steady action. Afterwards we enjoyed pizza and refreshments. As usual, a great time was had by all.
July 14, 2018 - Lake Delavan
Ten members in 4 boats fished Lake Delavan from 5 to 11 am. Weather conditions were very heavy overcast skies with light rain most of the morning. We had very calm winds with a little chop on the lake. Most of the fish caught for points were largemouth bass, with a few smallmouth and northern pike mixed in for a total of 34 qualifying fish totaling 155 points. The big fish was an 18" largemouth caught by Jeff Sannes on a sucker. Mike Tarnow and Frank Hein were runners-up with 17.75" largemouth.
We lunched at Crandles after the outing and the consensus opinion of everyone was praise for Lake Delavan having the healthiest and heaviest bass of any other local lake.
July 28, 2018 - Lake Geneva
Ten members fished the outing on a very nice day. We caught the following fish for a total of 148 points:
16 largemouth bass, including Lou DiNicola's 19-incher which won the big fish contest. The species for this prize was smallmouth bass with largemouth as the fallback, and no qualifying smallmouth were caught.

1 northern pike

54 bluegill

4 rock bass
There was an active topwater bite early. Lou got the winner on a whopper plopper casting into shore over the weeds from the buoy line in 10 fow. Several other bass hit surface lures as well. Lunch at Local Folks followed the outing.
August 11, 2018 - Silver Lake
Ten members fished Silver Lake in excellent weather. A total of 160 points were scored on the following fish:
29 largemouth bass, including Ken Haney's big-fish-winning 17-incher

1 northern pike

3 rock bass

7 bluegills
Nail worms, wacky worms, various plastics, and leeches were effective in and around the weeds. Ken Haney caught his 17" largemouth on a dropshot rig. It had a line sticking out of its mouth, and further examination revealed a 4" Gulp minnow on a jig barely protruding from its gut. Ken carefully removed the jig without harming the fish. The fish was somewhat emaciated, no doubt unable to eat with the jig blocking its throat. Surprisingly, it hit a 4" jerk minnow on a jig, making the the same mistake twice. It shows that cutting the line on a deeply hooked fish is probably not the best choice for the fish's long term survival. Contrary to popular belief, the hooks don't rust away. Once we had a crappie in an aquarium with a line protruding from its mouth. The hook never rusted away and we eventually released the fish about a year later and an inch longer with the line still protruding from its mouth.
August 25, 2018 - Pleasant Lake
Fourteen members fished Pleasant Lake in La Grange, Wisconsin for this outing. This is a new lake for the club, and prefishing yielded many (too many?) short bass. We thought the fish might be stunted, but Ken Haney caught 2 18-inchers while pre-fishing, so there are some big ones. The lake is clear and deep with a healthy weed growth profile. The following fish were caught for 148 total points:
27 largemouth bass; Ken Haney and Al Silcroft split big fish honors with 15-inchers

2 northern pike

3 rock bass
Most bass were caught on senkos, nailworms, and various plastics. Many fish just short of our 13" minimum were caught. We'll have to discuss whether we want to fish this lake again when we take our annual survey for next year's outings. Lauderdale Lakes is a chain of lakes close by, and we plan to prefish those this fall for consideration next year.
September 15-16, 2018 - Wisconsin River, Wisconsin Dells
This outing was canceled due to record flooding across Wisconsin.
September 29, 2018 - Forest Lake
Eleven members fished this private lake, catching the following scoreable fish:
38 bluegills

4 crappies

5 yellow bass

2 walleyes. Walleye was the big fish species for this outing, and Jeff Haug won with an 18 1/2 incher which beat out Gregg's 17 incher just before the outing ended.
A cold front moved in Friday night, and we started the outing in 45 degree weather, which really put the gamefish down. Panfish were somewhat active on live bait, but even they were slow.
We had a cookout at Lou DiNicola's house of bear teriyaki (provided by Jason Cashmore), venison teriyaki and chili (provided by Lou), and Johnsonville brats (are we on an episode of Gillespie's Waters and Woods?). It was a beautiful, overcast, cool day and fortunately the rain held off till the outing was over. As usual, a great time was had by all.
October 13, 2018 - Fox Chain
Nine members fished the Fox Chain of Lakes in fairly unpleasant conditions. The morning started out very cold and windy. The sun warmed us up a bit once it came out, but the wind never let up. Lots of fish were caught, but very few were large enough to score points. One boat found schools of white and yellow bass. They estimated they caught hundreds of them, but only 12 were big enough to score points. Another boat caught dozens of yellow perch, but only 3 were big enough to score points. In total, only 17 points of fish were earned, and 11" white bass won the big fish prize. It was far from great fishing.
November 3-4, 2018 - Lake Wisconsin
Ten members fished Lake Wisconsin on this weekend trip. Weather was typical fall walleye weather in Wisconsin—temps in the 40's, overcast, and light winds.
During prefishing on Friday, we established some patterns—both blade baits and minnows worked fished along the edges of drop-offs. Among the bunch of fish that were caught, 6 were legal saugers in the 16-17" range. We were ready for the outing start on Saturday morning.
But, it just didn't work out that way. Fishing was tough for everyone. It was very slow all over the lake. Only 63 points were earned over the two days on the following fish: 9 saugers (including a 19-incher by Ryan Nowakowski), 1 walleye (a 21-incher caught by Jeff Haug that won big fish for the weekend), 1 smallmouth bass, 2 crappies, and 1 perch. That's fishing!
December 1, 2018 - Lake Michigan
Several members braved the cold, wet conditions, but no fish were caught. Most quit early and went to breakfast.